Super Corporate Mascot Cool Death Warz: Noid vs. Spot
Today's SCMCDW features two mascots you may have forgotten: the Dominoes Noid and the 7-up "Cool" Spot.
Of course, all members of The Hypermodernity Club should immediately recognize that the only thing that makes the Spot cool is the fact that he's the ad mascot for a large modern corporation (thank you McLuhan). Whether or not his sweet Blu Blockerz augment this fact is another matter entirely. But, as all things information are cool and advertising is definitely information, we should applaud 7-up for deciding to name its mascot so wisely.
So without further commentary: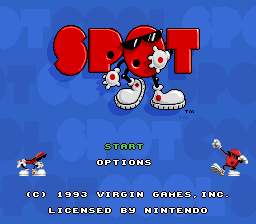 I
n the red corner, weighing in at 0 lbs (two dimensional objects have no weight or mass) and hailing from S
t. Louis, Missouri... the 7-up Cool
Spot!!!
And in the other Red C
o
rner,
weighing in at a catastophic 150 lbs and hailing
from Ypsilanti, Michigan....
The Dominos Noid!!!!!
"
Holy shit! I forgot
about
the video ga
mes! Didn't I rent both of tho
s
e from Blockbuster when I was in Middle School?"
The answer comes quickly from afar: Yes, you did forget about both of the games and yes, you did rent them in Middle School and yes... you most likely rented the Spot game around the same
time that yo
u fingered your
first girlfriend.
Remember? It happened in the back of a school bus heading to Washington, DC for a Holocaust
Museum field trip.
S
o, even though you jus
t soiled your brand new Diesel Jeans
, we must continue moving endl
essly and
effortlessly towards our goal: Noid vs.
Spot in a
no-holds-barr
ed Quake 2
Deathmatch. The
arena: q2dm8. The server: Mage Warehouse.
Now, it's up to you to d-cide who wins, what the Kill/Death ratios will be, favorite weapons, etc.
Personal choice is the Noid (K/D ratio of 12-5), fuckin 0wn1ng with teh Rocket
Launcher, sending little black arms and legs flyin about. R3x0rz!